Beyoncé's Makeup Artist Sir John's Skin-Care Routine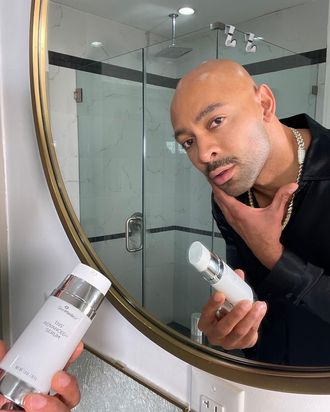 Photo: Courtesy of the subject
Over his nearly 20-year career, Sir John, the celebrity makeup artist and L'Oréal Paris USA's creative director, has created some of the most memorable beauty looks: Beyoncé's Vogue UK cover, Cynthia Erivo's cover for the Cut, and everything at the Zendaya x Tommy Hilfiger week, where he brought '70s glamour back with coral pouts and smoky eyes. "My favorite part about what I do is being able to move people," he shared over the phone.
Growing up in Buffalo, "I didn't always feel like I fit in," he says, often being mistaken for an athlete. "But going to art school," at Buffalo Academy for Visual and Performing Arts, "really allowed me to blossom." He continued down this path in college at American Intercontinental University, where he studied art history and developed a passion for makeup. He later began working at the MAC makeup counter. In 2010, everything changed. He was taken under the wing of Pat McGrath, whom he met through a friend, and eventually went on to work backstage at the Prada show. He slowly started meeting clients such as Naomi Campbell, who wanted him to do their makeup. He also assisted legendary makeup artist Charlotte Tilbury, which led him to working closely with Beyoncé in 2010. But above all the hard work, glitz, and glamor? "I also love being a part of why this business is more inclusive now," he says, having used his large platform to advocate for people of color — from his videos on holding the beauty and fashion industries accountable to making more room for diversity and pushing for normalizing conversations around mental health in the Black community.
Since his days are so booked and busy, Sir John's own beauty routine is incredibly important to him. This includes a refreshing cleanser, gua sha, and red-light therapy. He makes sure to treat his scalp the way he treats his face "because I'm bald," he says. "I also love getting my scalp lasered." And Sir John swears by the philosophy of eating for the skin you want to have. "I juice a lot of kale. It's great for circulation and complexion. Celery is great for detoxing, too," he says. "Being healthy is not only going to keep me alive for a long time, but it's also going to keep my body and skin in top condition."
8:02 — Murad's Age Reform Refreshing Cleanser: "I like to give myself a bit of a suds."
8:05 — Mele Toner: "It's a Black-owned brand, and this toner is really great for hyperpigmentation."
8:07 — Dr. Barbara Sturm's Lifting Serum: "This is the product I can't live without. It just makes my skin supersmooth and firm almost instantly."
8:08 — Supergoop Unseen Sunscreen: "It's really important for me to protect my skin from the sun."
8:10 — Gua sha by Danna Omari or red-light wand by SolaWave: "I use these in the mornings but also sometimes at night" for sculpting and managing redness, breakouts, and wrinkles.
9:00 — A cleanser: "I like to double-cleanse in the shower."
9:05 — Serums: "When I'm not using the Barbara Sturm serum, I love using SkinMedica's TNS serum," which is praised for its skin elasticity and brightening and toning benefits thanks to green tea, vitamin C, and vitamin E.
9:07 — Sunday Riley C.E.O. Glow Oil: "I like using this to seal everything in and lock in the moisture at night."
Microblading: "I like to get my brows filled in a little bit. I also love a little filler and botox to be honest."
Anti-aging: "I don't like how we look at maturing and aging. This whole anti-aging era has made people believe they need foundation and concealer to hide signs of aging. I think this marketing chips away at peoples' senses of self, mental wellness, and how people show up for themselves."
Diversity: "Everyone deserves to feel beautiful, see themselves in beauty, and be a part of the dialogue."
Representation in places of authority: "I would love to see more inclusion from the C-suite and marketing levels. Also in the advertising agencies and casting agencies. It's not just about visual representation in front of the camera; it's also about executive representation and the decision-making behind the scenes of the things we do see."
Highlighter on the top of the nose: "I think it just makes people look like they've had foundation on for like 40 hours." Plus: gimmicky application trends. "I don't like using a knife to contour. It doesn't seem practical in terms of application and use."
The democratization of beauty: "I love that people are having such a whimsical approach to how they apply their liners and their makeup. Everyone's a makeup artist now. It's so beautiful. I also generally don't believe in trends. I think it marginalizes what people can do for themselves. I don't want people to feel like, Oh, I love this lipstick, but I can't use it because it's not on trend right now."
CBD in skin care: "It's not complex enough on its own for skin care."
Hyaluronic acid: "I always love anything really hydrating and plumping. I also love glycolic or anything alpha hydroxy or beta hydroxy because I love cell turnover. I love glowing skin, and I make sure to use chemical exfoliators to renew the complexion."
Sculpting through contour: "They always look sculpted but not aggressively so. You can't tell it's really there. I think people also know me for complexion and eyes. And, even more than my techniques, I think people come to me for my energy, too. I do love people. I love making people feel good. I love changing the atmosphere in a room just by doing right and having the right conversations. That's something that's become my calling."